Restorations
Gone are the days when we have a yard full of Used Cars for sale. Today Mini's have moved from a "poor man's" car to a collectable classic!  Good Minis and Mokes  are getting harder and harder to find, and when you do, they need a huge amount of work to get them to a fit state.
So although we are Licenced Motor Dealers in NSW, our business has turned a corner in the last few years and we find ourselves increasingly restoring a specific model Mini or Moke for customers, instead of having a yard full of cars to choose from.  Often people want a car they've always drempt of owning – perhaps replicating their first car when they just got their licence, or the car they always wanted but it was just never the right time.
There is little point in us building a great Mini or Moke in blue, only to have someone walk in the door and say "Oh I love it, but I want a red one!".
So if you are looking to have either your own car (that's been hiding in the shed for many years) restored or refurbished (yes there is a difference) , or you are after a particular model or shape (ie. MK II Cooper S, or a highly modified Mini, or a Mini Panel Van, or a Californian Moke that will carry your kayak), please contact us today to discuss the many and varied options.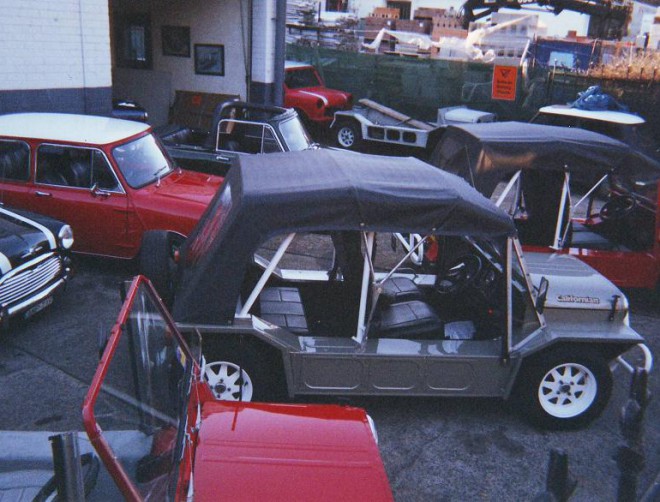 How times have changed… This was our forecourt 15 years ago…. it was a regular car yard where people could come along on a Saturday morning, and browse our stock.  Today – that space is used to store cars that are in need of restoration, so when someone wants a particular model or type of Mini – there's a good chance we'll have it! Having THREE Mokes for sale at any one time is unheard of now!
To see some examples of our work, go to that menu at the top of this page and look at CARS —> RESTORED & REFURBISHED